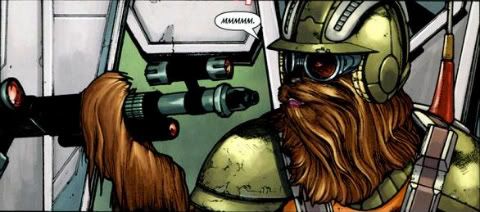 Dalborra (Sacking of Coruscant) : CL 14
Medium wookie scoundrel 3/scout 1/soldier 5/enforcer 5
Destiny 6; Force 5; Dark Side 12
Init +14; Senses Perception +13
Languages Basic, Shyriiwook

---
Defenses Ref 32 (flat-footed 30), Fort 29, Will 27
hp 136, Threshold 29; extraordinary recuperation

---
Speed 6 squares; Surefooted
Melee unarmed +18 (1d8+12) or
Melee vibrobayonet +14 (2d6+12)
Ranged sporting blaster rifle +1 (3d6+7)
Base Atk +10; Grp +14
Atk Options targeted suspect +2, Dasterdly Strike, Hammerblow, Knock Heads, Multi Grab, Point Blank Shot, Power Attack, Sneak Attack, Teräs Käsi Training
Special Actions rage 1/day, Dreadful Rage

---
Abilities Str 18, Dex 14, Con 16, Int 10, Wis 12, Chr 9
Talents Dasterdly Strike, Hammerblow, Melee Smash, Respected Officer, Slowing Stun, Sneak Attack +1d6, Stunning Strike, Surefooted, Takedown
Feats Armor Proficiency (light), Dreadful Rage, Knock Heads, Martial Arts I, Martial Arts II, Multi-Grab, Point Blank Shot, Power Attack, Teräs Käsi Training, Weapon Proficiency (advanced melee weapons, pistols, rifles, simple weapons)
Skills Gather Information +11, Initiative +14, Perception +13, Pilot +14
Possessions sporting blaster rifle, vibrobayonet, bandoliers, vest, cap, goggles, field kit
Source!
Notes: Dalborra is a wookie. He wears goggles. He works for the Sith Empire. He's wanted in several systems. Almost everything else is a complete unknown. Actually, I'm not certain Dalborra is even a he at all.

I decided not to give him the Blast Vest and Helmet as armour, despite it obviously being what he's wearing, as making it viable would have cost two talents for a +1 bonus to reflex defense, and that's ridiculous. Also, it's never really clear what sort of weapon he's carrying, but it is often long and thin with a point bit, so sporting blaster rifle with a vibrobayonet makes at least a bit of sense.

Finally, I chose to give him the Enforcer prestige class because:
1) I like it, and
2) I thought it would be fun to assume Dalborra's role is not entirely dissimilar to that of the Imperial Agent class from 'The Old Republic', and Enforcer seemed to fit.