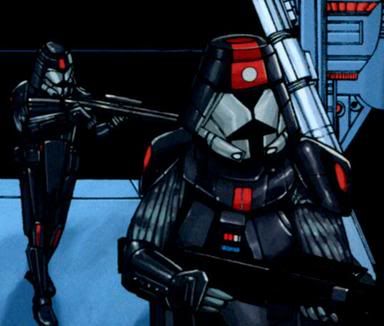 Imperial Sith Trooper : CL 1
Medium Human human nonheroic 4
Dark Side 4
Init +9; Senses low-light vision; Perception +3
Languages Basic

---
Defenses Ref 18 (flat-footed 16), Fort 13, Will 19
hp 14; Threshold 13

---
Speed 6 squares
Melee unarmed +4 (1d4+1)
Ranged blaster rifle +5 (3d8) or
Ranged frag grenade +5 (4d6, 2-square burst)
Base Atk +3; Grp +4
Special Actions Point Blank Shot, Precise Shot

---
Abilities Str 12, Dex 14, Con 13, Int 10, Wis 9, Chr 10
Feats Armor Proficiency (light), Point Blank Shot, Precise Shot, Weapon Proficiency (pistols, rifles, simple weapons)
Skills Endurence +8, Initiative +9
Possessions Imperial Sith trooper armor (+6 armor; +2 equipment; helmet package), blaster rifle, frag grenade, utility belt with medpac
Imperial Sith Trooper Elite : CL 2
Medium Human human nonheroic 8
Dark Side 6
Init +10; Senses low-light vision; Perception +6
Languages Basic

---
Defenses Ref 18 (flat-footed 16), Fort 14, Will 10
hp 42; Threshold 14

---
Speed 6 squares
Melee unarmed +7 (1d4+1)
Ranged blaster rifle +8 (3d8) or
Ranged frag grenade +8 (4d6, 2-square burst)
Base Atk +6; Grp +7
Special Actions Point Blank Shot, Precise Shot

---
Abilities Str 12, Dex 14, Con 14, Int 10, Wis 10, Chr 10
Feats Armor Proficiency (light), Implant Training, Point Blank Shot, Precise Shot, Weapon Proficiency (pistols, rifles, simple weapons)
Skills Endurence +11, Initiative +11
Possessions Imperial Sith trooper armor (+6 armor; +2 equipment; helmet package), cardio implant, blaster rifle, 4 frag grenades, utility belt with medpac
Source!
Notes: The rank and file of the Sith Empire. Not much information is known. I assume they're mostly conscripts, and heavily indoctrinated as part of their training. Their helmets look silly.

I'm not sure if there's a good reason for them to have different stats from the Sith Troopers found in the 'Knights of the Old Republic Campaign Guide' or even the Stormtroopers found in every other book, but why not? Plus, I don't really like the Sith Military Training feat that Sith Troopers get.

Instead I decided it made a lot of sense for dudes who fight alongside lightsaber wielders to have Percise Shot. It wouldn't look good for a lowly grunt to accidently shoot big bad Darth Meaniehead in the back, so they probably train for situations where they're going to need to fire into melee without hitting the constantly pissed off guy who can choke them with his mind.

The Elites get Implant Training for no other reason than that I was amused by the idea that the way the Imperial Sith Army rewards it's distinguished troops is by sticking a chip in their brain.